Details matter — especially on the big screen. While movies make an impact using special effects, famous celebrities, and gorgeous costumes, how they're marketed to the public beforehand is of utmost importance. One of the ways they can make waves in the market is by using bold typography.
An epic film needs an epic font. From Jurassic Park to Star Wars, they're made unforgettable with a little help from the lettering used for various promotional materials. Think of the last movie you watched. You can probably find creatives talking about customizing a similar font to capture the look.
Want to see your design up in lights? Then ready yourself by grabbing these awesome movie fonts today!
1.
Marschel Pro
With stylistic alternates and elegant ligatures, this gem by Zeune Ink Foundry will make any project magical. Use on posters, invitations, book covers, logos, or packaging. Whatever it touches is sure to be exquisite.
MADE TheArtist
Contrasting effects always give an interesting end product. MadeType has just the thing for when you need something bold AND elegant at the same time. This duo font pack is great for when you need to make a quick statement without sacrificing on quality.
Armada CPC
Christopher P. Cacho creates a bold yet vintage vibe in this amazing typography that's built for battle. Perfect for seafaring adventures, or any naval-themed projects.
Sickle Blade Typeface
Be haunted by this edgy font by alphadesign. With cool alternates to make any design stand out, it's ideal for gaming or movie-related works.
Metropolis Font Family
Love the city? Evoke a similar feel to whatever you're working on in this font family from Unio. Inspired by the original 1927 Fritz Lang movie, it features eight styles to choose from to lend the somber appeal of the urban jungle.
August Typeface
As they say, go big or go home. Ellen Luff has just the thing in this beautiful condensed sans serif display typeface. Ideal for large-scale projects, it manages to remain versatile enough to be used even in body copy. Get yours today!
Palm Canyon Drive
The mention of movie fonts just won't be complete without taking a trip down memory lane during post-war Hollywood. Recall the time of retro matchbook covers, travel postcards, and Tikki bars in this gorgeous item brought to you by RetroSupply Co..
Bassanova
Inspired by the characters of the "Love in the Afternoon" movie poster by Saul Bass, this classy typeface by Julia Bausenhardt is sure to lend a classic feel to any design. Just don't forget to activate the Open Type Features to maximize your experience.
Brodo Display Font
The 1920s were definitely the golden age of movies and leisure. Give your designs the same golden treatment in this art deco custom sans serif by JumboDesign. With six amazing styles to choose from, your works will truly take center stage!
Giant Vintage Style Font
Make your headers or posters stand out with this colossal font from JumboDesign. Created to make a huge statement, it even comes in unique grunge textures to offer a vintage feel to any work.
Blackthorns ©
Want an air of mystery in your projects? This typeface from Herofonts could be just what you need. Featuring four weights and web versions, it's perfect for digital or printed works.
Pineapple Funny Style Font
Break the basics in this cute but bold offering from JumboDesign. Use for posters, headers, blogs, cartoons, or gaming designs to bring a smile to your audience's faces. Pair with fun patterns or animated backgrounds for a truly unique look!
Mangano Font
Whether you're looking at movie fonts to create impact for a client project, or you simply want to jazz up a personal craft, then this little gem by Hindia Studio would make a neat addition to your toolkit. Available in rough and clean variants, it'll give your works either a classy or vintage feel anytime.
TT Bluescreens
This font family by TypeType is beautifully subtle to be used for any creative work – yet imposing enough for large-screen projects such as posters, titles, trailers, and more. With a total of 30 typefaces and more than 70 supported languages, this is one purchase you'd be glad you made.
Rockrace Font Family
Arterfak Project brings to you this font family that's perfect for sports, techno, or minimalist themes. It comes in nine different styles that you're free to mix and match to get the desired product. Looks amazing as headlines, logos, titles, or even as quotes for sharing on social media.
Clearlight Font
Switch from elegant to technical in a snap thanks to this offering from NimaVisual. With crisp edges and rounded forms, this typeface can instantly add pizzazz to personal or commercial projects.
Brother Typeface
Got a client project that needs something striking? Look no further than this creation by giemons™. Combine the Bold and Light versions to make something unique; or play around with size and see the difference. Use for logos, displays, branding materials, or apparel.
http://www.cops.com Deputy Roedding - Lee County Sheriffs Office Deputy Roedding with Lee County Sheriffs Office makes contact with a suspicious vehicle inside a closed park. Both records come back clean and the woman consents to a search of her vehicle. A small joint is found in her clutch purse and a handgun with an extended clip is found in the male passenger's book bag. Deputy Roedding releases the woman to her mother. The senior athlete man is taken in for possession of a concealed firearm.
Multi-touch attribution isn't new, but technological advances have brought it within reach and made it more important than ever, says contributor Chuck Moran. The post Solving for cross-device complexity with multi-touch attribution appeared first on Marketing Land.
Please visit Marketing Land for the full article.
We've all heard the famous Dieter Rams quote, "Good design is as little design as possible." A great interface is one that the user doesn't see, think about or struggle to understand. In the words of Steve Jobs, "It just works." When it comes to digital products, this means putting the user at the center...
dance full of spoiled touch || sexy dance girl (kpop) this dance besides elegant, can make the eyes do not get tired of seeing with her sexy . this video is special in watch over 18 years...
The bright lights of old theater signs promise excitement, drama, and the glamour of classic Hollywood movies. Now, you can add that retro look to design projects of all kinds with this collection of realistic-looking fonts complete with authentic light bulb effects that recreate the styles and colors of the vintage cinema marquee.
1.
Marquee Light Bulbs
The Marquee Light Bulbs font set features vintage style 3D lettering with realistic light bulb effects to use for designing posters, invitations, and announcements. The set comes with two 3D lettering sets, a collection of light bulb renders that suggest the textures and shades of burned out bulbs and rusted sockets, plus a set of six grunge display fonts in transparent PNG files.
Showtime Alphabet
The Showtime Alphabet recreates the lettering of old marquees with 3D lettering, bulbs, and elements in separate files for creative combinations. The Showtime Alphabet set includes four ready-made scenes and background textures, along with glyphs and graphic elements that can be used for projects such as announcements, prints, and posters.
Queen Street Display Font
Inspired by the hand-painted signage of boutique shops and the typefaces of independent zines, the Queen Street Display Font set is a vintage styled display font with stackable Photoshop layers in four styles. This setup allows you to create a variety of effects, either by stacking layers on top of each other or using them alone for a cleaner look. The Queen Street font set also comes with multilingual support for a long list of languages in both Latin and Cyrillic alphabets.
Buket Font Collection
Buket means "bouquet" in Turkish, and this large font set contains a bouquet of 18 compatible vintage-inspired serif and sans serif font styles and textures for use in a variety of creative projects such as signage, menus, posters, prints, and branding. The Buket Font Collection comes in four styles, including script, contrast, basic, and shiny. It also features a large set of decorative elements such as ornaments and swashes for use with all the font variants.
Lights On! Vector Alphabet
Lights On! is a pure vector alphabet with no raster effects that features realistic bright light bulbs, suitable for adding a genuine movie marquee look to projects such as headers, prints, posters, and packaging. The all-caps alphabet is fully editable in Adobe Illustrator for customizing colors, strokes, and changing the look of the light bulbs inside each letter. The alphabet also includes a full set of numbers.
Vector Light Bulb Marquee Letters
Featuring bright yellow light bulbs inside each letter, the Vector Light Bulb Marquee Letter set is an all-caps vector alphabet made of individual elements, not a font. Each letter is in its own vector EPS file for complete editing and customizing. The simple A to Z Latin alphabet includes a full set of 26 characters, and can be sized and arranged using the tools of Adobe Illustrator for projects such as branding and marketing, posters, invitations, scrapbooking and more.
Showtime Color Font
The Showtime Color Font is an Open Type font in a realistic marquee format for adding eye-catching color and vintage style to projects such as illuminated signs, announcements, invitations, branding, and other projects needing an attention-getting set of all capitals. Each letter is individually created in 3D and then converted to a color font, and comes with additional instructions for working with color fonts.
Marquee Light Bulb Sign Letters
Featuring photorealistic lighting and textures, the Marquee Light Bulb Sign Letter set is not a font. Each letter in the Marquee Light Bulb Sign Letter set is created separately on individual transparent PNG files for separate editing and use in posters, announcements, branding, and packaging. The set includes a full Latin alphabet in all caps, plus 10 numbers.
Marquee Letters
The Marquee Letters set is a pack of 3D rendered marquee letters with light bulb effects based on the free INTRO typeface. The set of high-resolution Photoshop files comes with a separate pack of 39 symbols including a full number set and punctuation, plus a tileable marquee border for creating projects such as headers, posters, announcements, and invitations.
Realistic Marquee Set
The Realistic Marquee Set is a uniquely realistic letter set featuring three options for each letter with light bulb effects including bright, low light, and burnt out for adding vintage marquee effects to signage, headers, and posters. The set includes a full all caps Latin alphabet, selected punctuation marks, and special symbols.
Bonus: Burford Pro Pack
Made for professional users of premier design programs such as Adobe Photoshop, InDesign, and Illustrator, the Burford Pro Pack of vintage and retro fonts was inspired by European display typography. The Burford Pro Pack includes 18 layered font styles, plus stylistic alternatives and 100 extra elements.
The movie marquees of years past grabbed attention and promised excitement and wonder on the silver screen. These retro marquee fonts and lettering sets recreate the vintage appeal of those larger than life signs for eye-catching design projects of all kinds - complete with realistic light bulb effects.
Products Seen In This Post:
Free lettering worksheets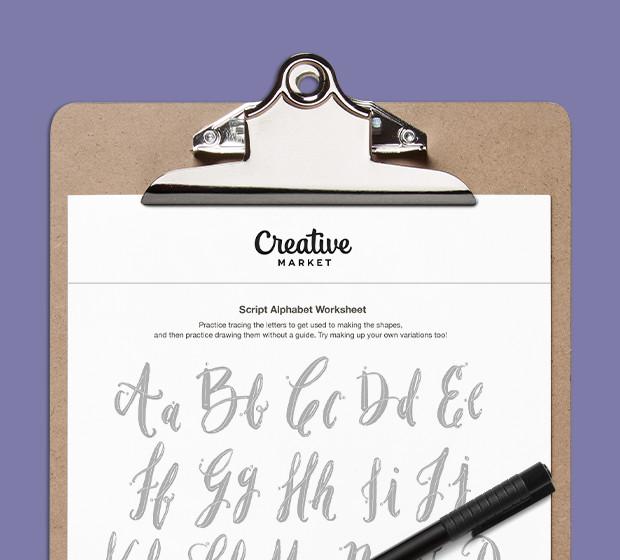 Download now!

Getting started with hand lettering?
Download these worksheets and start practicing with simple instructions and tracing exercises.
Everyone can earn money online. If you are a hard working talented person with basic computer knowledge and have an internet connection at home you can easily earn a decent amount of money...